Short-term lets in Edinburgh – just how accurate are the statistics?
Figures – some people love them, others loath them and this often depends on what they are being used for and by whom.
According to WikiPedia:
"Statistics is a branch of mathematics dealing with data collection, organization, analysis, interpretation and presentation."
Much like politics though, it's the way that the figures are presented that can make all the difference.
"The glass is half empty."
Before we start throwing numbers around, let's first state that the figures provided for consultation purposes have been provided via AirDNA, which is a market-based platform that tracks information on AirBnB listings by using publicly available data from the AirBnB website.
According to AirBnB themselves, an active Airbnb listing is defined as "a listing that appears on the website during a search.  Active listings do not necessarily have availability on a particular date or at all."
Now that's been determined, please see below for a short section taken directly from the Scottish Government's "Short-Term Lets:  Consultation on a regulatory framework for Scotland" paper, published yesterday (28th April 2019).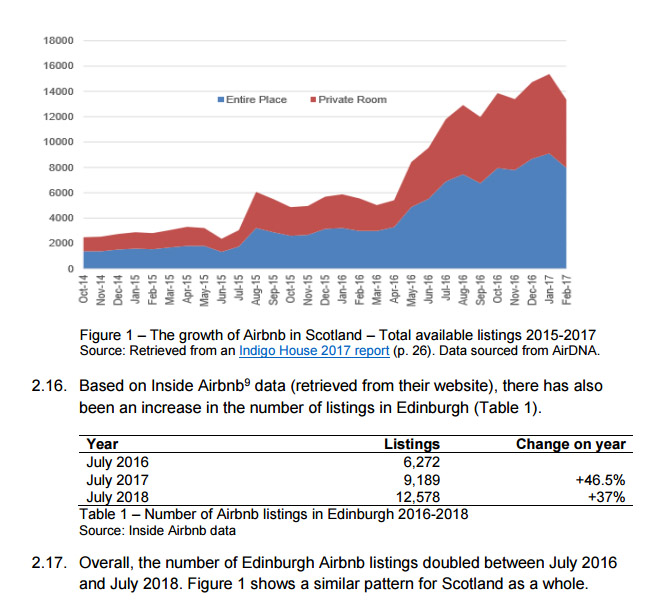 The current fixation in Edinburgh is about the number of short-term let properties available year round and the amount of disruption it is currently causing amongst local residents.  Unfortunately the figure quoted (12,189 listings) isn't representative of the actual amount of properties available 24/7, 365 days a year and as a whole the figure presented is not 100% accurate and is in fact inflated significantly.
"The glass is half full."
As of February 2019 there were
12189 listings
 on Airbnb in Edinburgh – a decrease from last July's 12,578 listings and inline with the Scottish trend detailed in the above graph from January to February 2017.  The Edinburgh market has plateaued.
One of our independent property hosts has studied the data presented via AirDNA and has kindly present the following details for your perusal.
From these 12189 listings, there are:
67 Shared rooms
7499 Entire homes
From the 7499 entire home listings, the following information can be determined:
2004 of these listings (26.7%) haven't had their calendar updated in over 2 months.
1309 of these listings (17.5%) haven't had their calendar updated in over 6 months
Of the 2004 listings which haven't been updated in over 2 months, 1448 of them (72.2%) have 30 or less days available.
Of all 2004 listings which haven't been updated in over 2 months, 1392 of them (69.5%) have 0 days available in the next year.
Of the 2004 listings which haven't been updated in over 2 months, 96 of them (4.8%) have 358-365 days available in the next year (indicating no bookings in place/no activity but with 1-7 day notice period).
Of the 2004 listings which haven't been updated in over 2 months, 142 of them (7.1%) have no availability in the next 90 days but do after that, possibly suggesting they accept long term bookings only or only accept bookings during the summer.
From the above independent analysis, we would suggest that it's fair to discount at least 1392 from the figure of 7499, suggesting that there are just 6107 active home listings in Edinburgh – around half the initial 12189 figure of holiday let properties available.
"Delving deeper."
According to AirBnB, a typical listing in Scotland operated for 44 nights annually in 2017/18.
Slightly more than half of AirBnB listings in Scotland (54%) in 2016/17 were booked for under 30 nights/year.
28% of the listings in Scotland were booked for more than 60 days and 19% for more than 90 days – according to a 2018 Edinburgh City Council report just over 1 out of 5 Airbnb listings in 2017 were operating in excess of 90 days/year.
If we were to apply this 1 in 5 (20%) figure to the 6107 active home listings for Edinburgh, this implies that only 1222 properties are available for 90+ days in Edinburgh, which is just 10% of the initial figure being touted by parties motivated by other agendas and our more sensationalist media channels.
And what about the rest?
Alongside the rooms available in shared accommodation, most of the entire homes available to let are private homes that the owners themselves actually live in the rest of the year round. We deal with many property hosts and the vast majority are simply property owners that are looking to help cover the cost of a holiday, honeymoon or wish to be elsewhere when our beautiful city doubles in population as it plays host to one of the many events that helps contribute to Edinburgh's international reputation as THE Festival City!